Dakota Carriers was founded in 1992 by Jim and Brigitte Fowlds. Jim drove truck and Brigitte dispatched. By their second year, they had 10-12 employees and a steady supply from John  Morrells and Starmark cabinets. Since then, there has been gradual customer and driver growth. The Fowlds built the business on principles of unwavering quality, service, and a customer-friendly attitude.
In June 2015, Tim Schenk, owner of Schenk Trucking, purchased Dakota Carriers which  quickly doubled the fleet's size. Since then, Tim and his wife Lisa have continued the legacy the Fowlds family began.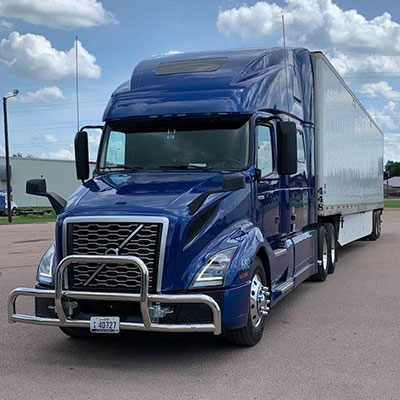 Dakota Carriers is striving to be the trucking company that will satisfy not only the customer but make every employee feel like a part of a family. We are consistently looking to grow and becoming a premier trucking company in the local region. With a growing company, we are still looking to remain the same team mentality small companies experience that will look out for every employee and make them feel incredibly welcome. We are striving to keep our mission the same day in and day out. We hope that our customers will keep turning to us as the professional and experienced team they have known since the beginning.
With future goals consisting of become a go-to trucking company, we are looking for new opportunities that await the trucking industry. We have recently built a new shop and office in Sioux Falls, SD and looking forward to the new location. New opportunities that also exist for Dakota Carriers employees consist of a new drive along with program that will assist drivers with little experience to feel more comfortable behind the wheel and be offered a full-time position at the end. Assistant Foreman / Truck Mechanic Trailer Wash / Shag Driver PO Box 84907
Sioux Falls, SD 57118
Office: (605) 336-5061
Dispatch: (605) 336-6311